St. Kilian Catholic Church,
MISSION VIEJO, CA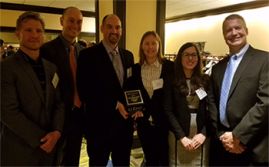 VALUE DELIVERED
Complete turnkey delivery of a 136.6 kW solar photovoltaic carport project in a tight 60-day timeframe
Improved parishioner comfort
Reduced energy consumption and costs
No disruption to current operations
CLIENT OBJECTIVES
St. Kilian wanted to reduce skyrocketing electricity costs with solar photovoltaic carports while also communicating the Church's commitment to environmental stewardship to its parishioners and surrounding community.
SOLUTIONS
396 solar panels were mounted to 2 steel carport structures in the parking lot that generate over 80% of annual facility electricity usage on site with clean, renewable solar power while providing comfort to parishioners with shaded parking. In addition, this project allowed the Church to gain independence from skyrocketing electricity costs without curtailing operations or impacting the comfort of visitors.
The client chose Mesa because of the company's extensive experience performing complex energy projects on a turnkey basis.
From the start, Mesa faced two critical challenges. First, due to the Church's weekly schedule and a regular flow of visitors and traffic, the project had to be constructed in a manner to minimize the loss of valuable parking places. And second, due to a pending change in their utility rate schedule, the project had to be completed and permitted in less than 60 days.
To address these challenges, Mesa used a staged approach to the construction in the areas that affected the parking areas, while simultaneously working on the electrical connections of the project in areas without parking constraints.
Directional boring was used for conduit runs from the carports to the Church's main electrical service panel to maintain a clean aesthetic and minimize patch-back of the surface of the parking lot. Each day, after the daily construction had been completed, temporary fencing was installed to free up additional parking spaces required for the Church's evening activities.
As a result of these initiatives, coupled with diligent onsite management, the project was completed on time and implemented in a manner that had minimal effect on the Church's already tight parking restrictions.
CLIENT BACKGROUND
St. Kilian Catholic Church is a member Parish of the Roman Catholic Diocese of Orange.